**As private pilots, when you take guests up for a ride, where do you take them and/or
what do you show them to make the experience more than just a flight?
Please state your home base airport, where you go and/or what you see, route of flight
(if it's not too much trouble to write) and provide pictures and/or links about the destination.
Try to help us experience the flight here!**
My home base is KOKV - Winchester Virginia, and I take my pax to Seneca Rocks in eastern
West Virginia. The trip is about 145 nautical miles which makes for a good one-and-a-half-hour
flight in a Cessna 152. This trip takes a little extra vigilance as the southern end of the ridge
(where the rocks are) is about 6nm from the north boundary of the Evers MOA, and there are
sight-seeing helicopter flights in the area.
Link to Seneca Rocks Webcam:
(click on image)
http://www.senecarocks.com/images/webcam-ad.jpg
Route of flight:
First I navigate to Grant County Airport (W99), then turn more southerly along the southeast
side of the ridge, then swing around the south end of the ridge where the rocks are, then
back northeast along the northwest side of the ridge, and then back home.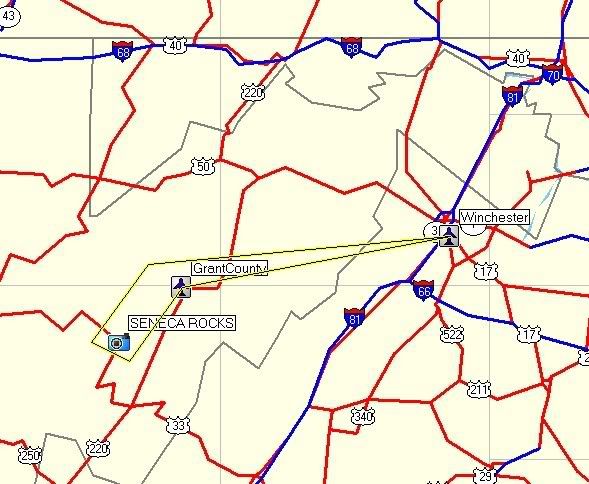 More Links:
LINK TO SKYVECTOR.com FOR SECTIONAL CHART IMAGES