United 357 Is a flight from BWI to DFW via ORD. I'll be taking this flight next week, thus my interest in this one. The route for this flight number just changed a couple of days ago - it used to be Kansas City to Denver.
So anyway, the BWI to ORD leg is like 3.5 hours late today - UAL's Web site says due to late arriving aircraft. Alright… stuff happens… whatever. So FlightAware has it arriving ORD at 7:11
http://flightaware.com/live/flight/UAL357/history/20060506/2235Z/KBWI/KORD
Now, as I post this, FlightAware shows no record of the ORD to DFW run, but UAL's site shows it as having left ORD on time at 4:49 and arriving DFW at 7:27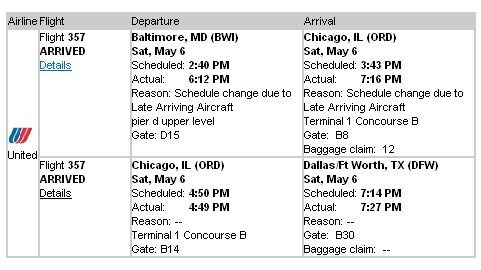 So how can a flight takeoff 3.5 hours late for the first leg and arrive on time for the second one? The only thing I can think of would be that they rolled out another plane at ORD and sent the ORD to DFW pax on their way (on time) and made other arrangements for the BWI to DFW pax

This would create two UAL357 flights which would conflict in FlightAware's tracking database and cause the second one to be rejected?
Anybody have any thoughts, ideas or theories?
Sure glad my trip is next week and not today, and hope that they get things straightened out next week!